PRODUCTION QUANTITY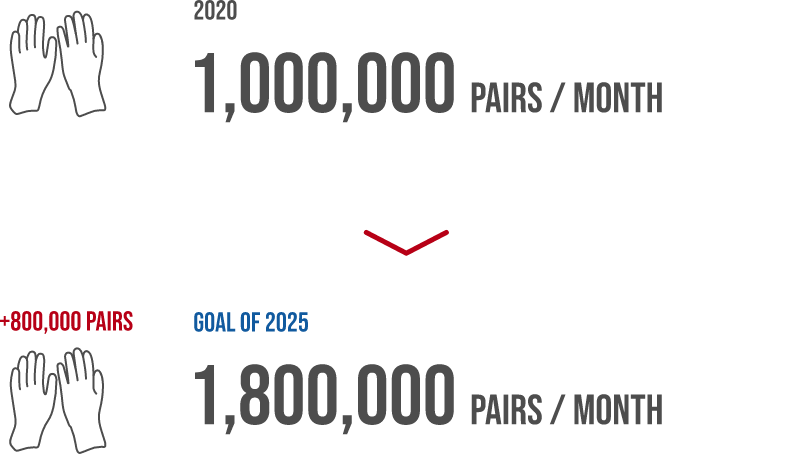 MACHINES
Knitting Machine

Coating Machine

Packing Machine

Printing Machine
PRODUCTION SYSTEM WITH QC
A
Covering
The first step for the quality and performance of the liner is the covering of the yarns.
Covering is the technology that combines and twists various types of yarn such as glass fiber and metal fiber into one.
DukWon Glove CO. has their own covering technology..
B
Knitting
The second step in production of gloves is knitting liner with covered yarn.
DukWon Glove CO. has learned bettr knitting know-how for last 20 years and now has the highest knitting quality technology.
C
Coating
Due to the decrease in the use of natural rubber, chemical products that can replace natural rubber, such as polyurethane and nitrile, have been developed.
For the glove coating material, PU, Nitrile have been developed and their advantages have been strengthened such as harmlessness to human and the environment.
DukWon Glove CO. has various coating technologies; Latex, PU, Nitrile, PUD and Micro Nitrile.
D
Printing
Printing is the work of writing gloves' information on the back of gloves.
In general, the code, functionality, size, and manufacturer of the glove are written in the logo to help users and buyers easily select suitable gloves to them.
Printing also does to make the gloves stand out by adding a logo in a variety of colors and designs desired by customers.
E
Quality Check
DukWon Glove CO. inspects and collects all the knitted and coated products prior to packaging in order to keep our customers' trust and raise quality expectations.
Inspection is our endeavor to increase the customer's confidence in the products of DukWon Glove CO. and to provide the best service to customers. DukWon Glove CO. guarantees a low defect rate for all products.
F
Packing
The final step in the production of gloves is packing.
DukWon Glove CO. generally recommends packing 10 pairs in a pack and 200 pairs in a box.
In addition to this, we offer a variety of packages and boxes, including single pair packaging, depending on customer's needs, and the type or weight of gloves.
DukWon Glove CO. also does special packaging such as vacuum packaging and color packaging to follow customer's needs.